About Julie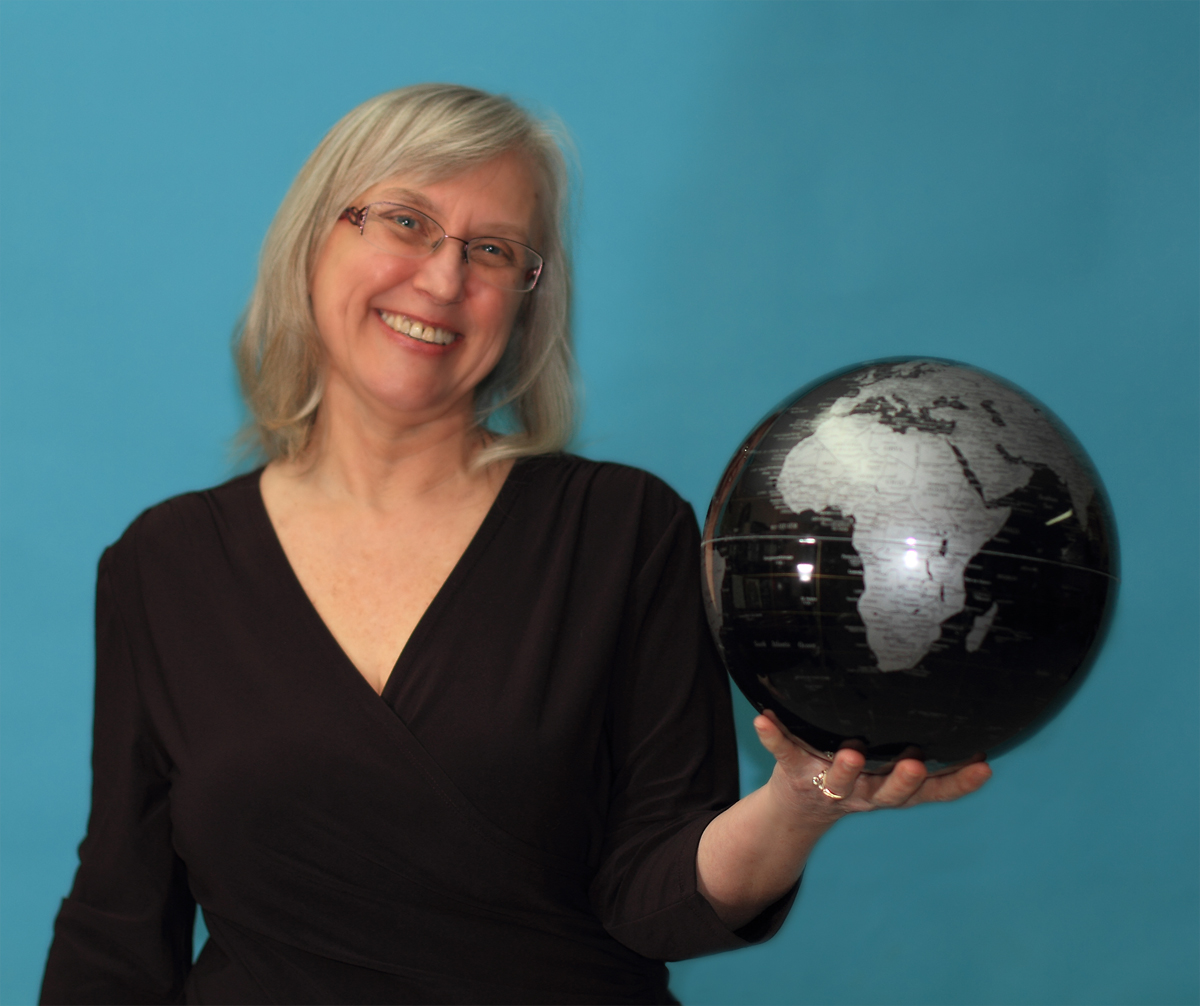 Bio of Julie E. Czerneda, she/her (<100 words, May 2022)
Canadian, biologist, award-winning author/editor, for the past 25 years Julie E. Czerneda has shared her curiosity about living things and optimism about life through her science fiction and fantasy, published by DAW Books, NY. Out now is Julie's 22nd novel, Spectrum, continuing Esen's misadventures in the Web Shifter's Library series, featuring all the weird biology one could ask. Her fantasy includes the Aurora winning novel, The Gossamer Mage. November 2022 will see the release of To Each This World, a standalone SF. Julie is represented by Sara Megibow, of KT Literary. Find more at www.czerneda.com
---
The Story Behind the Author
Before I wrote…
The year I was born (and the month) the world gained the Salk polio vaccine. We lost Albert Einstein. Shortly afterwards, Disneyland broke ground. We lived on an airforce base, my father having re-enlisted to do what he loved most with the Royal Canadian Air Force, thus I grew up surrounding by what flies.
My earliest memories, other than playing in cockpits, revolve around the finding and catching of frogs, salamanders, dragonflies, and anything slower than an eager 3 year old. It's about then I learned one could become a biologist. I'd firmly respond with that word when asked what I wanted to be when I grew up. (I also refused to leave the stage during my first tap dance recital—another pointer to my future self.)
My brilliant brother was ten years older, my mother divided her time between learning and listening–while dancing–and my father hand-crafted bookcases and collected stamps. The sum forged what I now appreciate was a family environment rich with love, words, and ideas—with a "do your best and always be kind" sensibility I hold to this day. We'd music and laughter and many many parties. (Another pointer to future me.)
At age ten, I discovered science fiction. Andre Norton's Star Rangers. Which I found by reading all the N authors in my school library. Here was what I'd been missing. Stories that blew horizons away. That brought new worlds to life. Noticing, my father began to bring me home paperback editions of the pulps he'd loved as a kid, 2 books each payday. Doc Savage. John Carter of Mars.
Tarzan.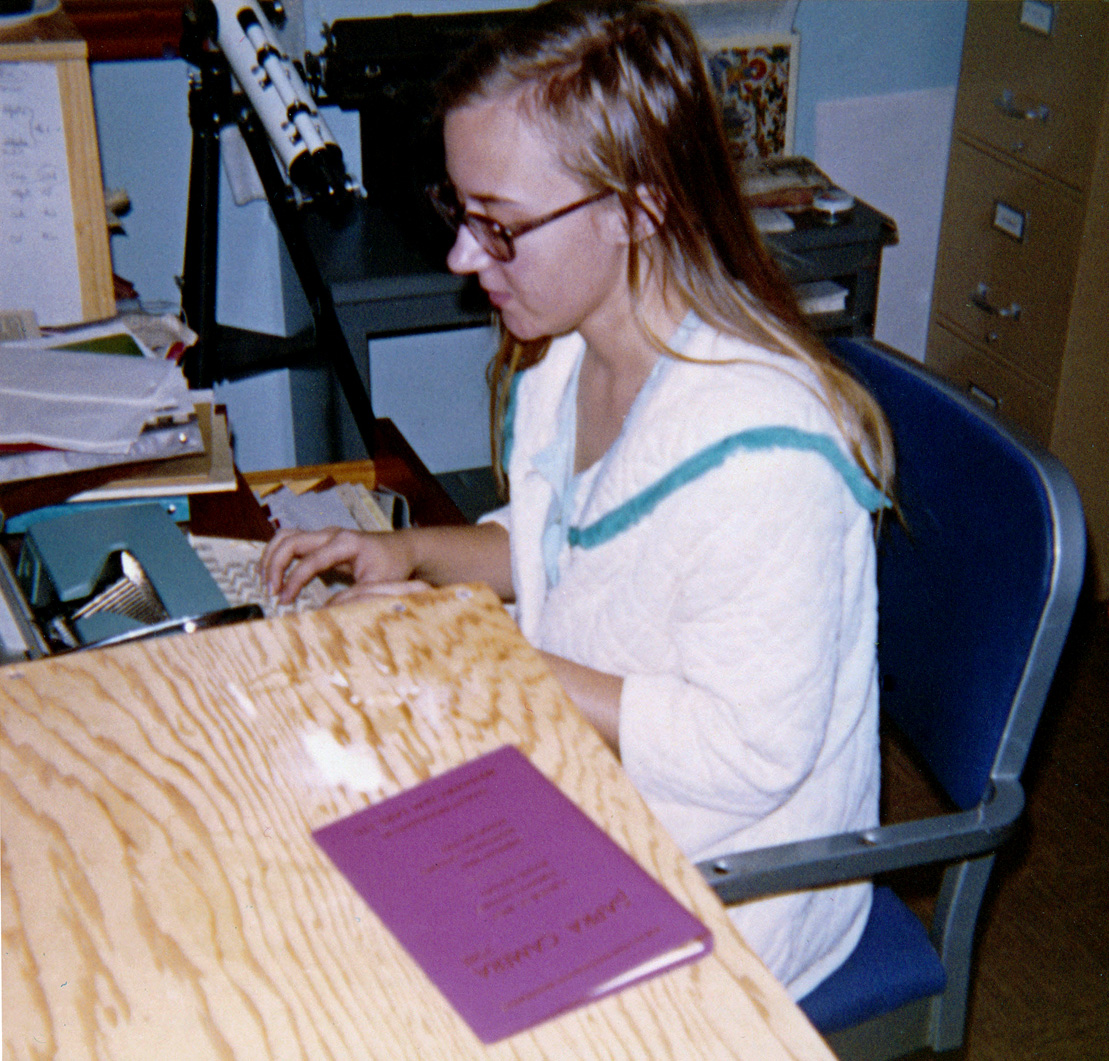 And this happened…
I read Tarzan of the Apes, loved everything about it from the jungle to the adventures, but the ending? He gives up everything? I raced into the kitchen, dropped the book on the table, and declared it was AWFUL.
My mother—fully aware book #2 of the series was on the dresser waiting for me–instead raised an eyebrow at what was, for me, a wild tantrum. She then gave me her enormous antique Underwood typewriter and some paper, and suggested I fix Tarzan. To write my own ending.
I did. Though the page is long gone, I remember it as epic. I wrote a satisfying, wonderful finale of my own and, though I did enjoy the rest of Burroughs' books when given them, I was hooked. I could make up stuff. And I did, on that beast of a typewriter, for years.
University…
I went to the University of Waterloo for biology. (I'm consistent.) I added a physics minor–having decided the biology of most interest to me lived on other worlds, yet to be discovered, and I'd need to be of use in a spaceship–then tossed in philosophy, geography, and English because no one could prove to me specializing was in any way a good thing. My schedule set a new university record for the number of conflicts.
On the first day of class, I met a fellow student named Roger Czerneda. He proved to be an exceptional lab partner, being interested in chemistry, and we became great friends. Then, as I like to say, biology always wins. We were married in third year and my marks soared. Really. Amazing that.
When I went to the University of Saskatchewan for graduate studies, on fish and the evolution of reproductive communication systems, I began using my stories to explore science concepts. To do mind experiments. (Note: I hadn't yet finished one yet, mind you. Stories. I just kept folders of unfinished ones I'd visit as the mood struck me. I came up with Sira. And Esen. Started what became Company.)
My secret was out…
We came back to Ontario and found jobs, me at the biology dept of UW and Roger with the region's environmental lab. It was as we were unpacking in our new apartment that Roger found my folders of unfinished stories. What were these?
I hadn't meant to kept them secret, it just hadn't occurred to me to ever say "I'm typing a lab report" versus "I'm writing about a blue blob alien." I mean, who does?
Although I hadn't taken my fiction writing seriously, Roger did. Nothing would do but he build me a writing desk and we buy a new IBM Selectric typewriter THAT DAY. It sped up my typing, if didn't change the fact I wasn't about to show anyone my stories. Ironically, the first piece of writing I finished on my IBM was my first non-fiction publication, a new lab manual for first year biology students.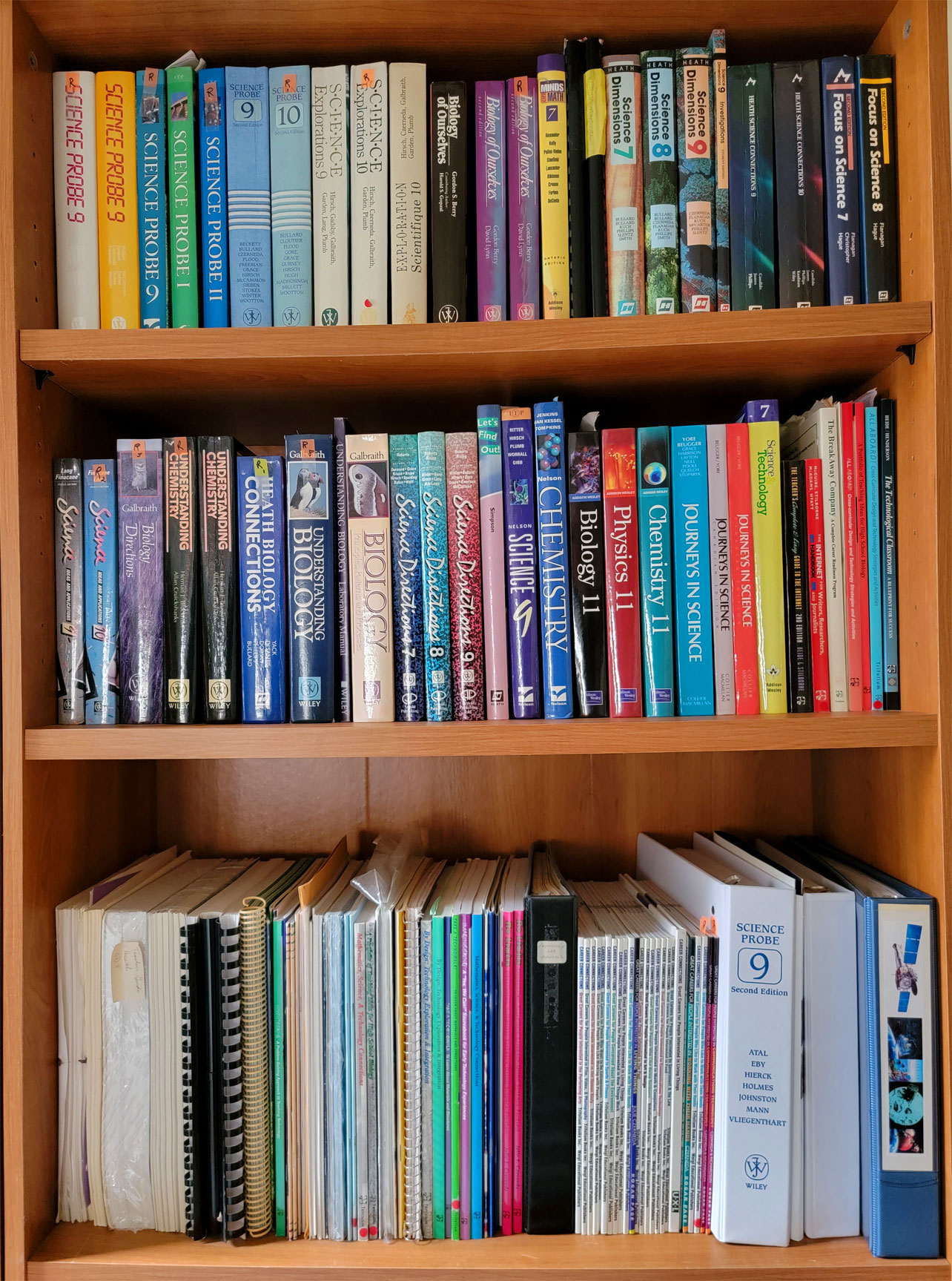 An unexpected offer…
We got serious about our personal biology and started a family, but the result was, well, a surprise. Our best man (by then a science teacher), who knew (a) I was home with babies and (b) wrote stories for myself, called to tell me he'd given my name to the John Wiley & Sons sales rep as someone who could write textbooks for the company.

Pardon me?
Use my education, keep current in science, and make some money from home—the idea was great, if I could do it. After writing a test section for them, I was offered a contract on the spot. Roger (you see a pattern?) immediately took me shopping for a computer with word processing. Goodbye typewriter!
It turned out I was very good at writing science and did so for years, learning everything possible about publishing and the book business because…I'm curious. Eventually I was a senior editor for a major house as well as an author but…
Curricula recycle every decade or so. Eventually I'd been doing this work long enough to be asked to write my second, and sometimes third, versions. New approaches, yes, but the same material. Fortunately for me—and you, dear readers—my first editor had other ideas.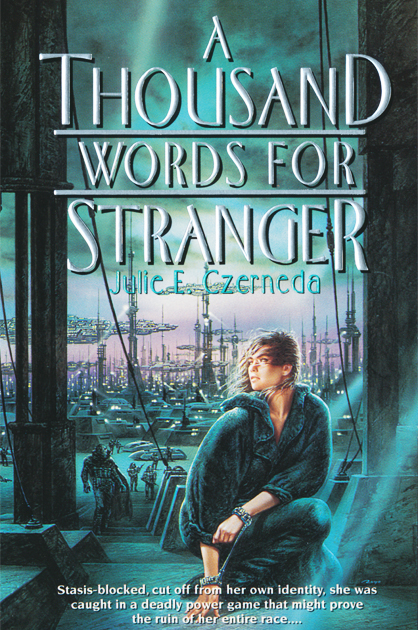 Time to get brave…
Early in my textbook writing career my editor, Trudy, who knew I had drawers of unfinished stories (Roger told her, as he'd told our best man, remember?), urged me to finish them and send them out. Wasn't I a pro writer?
Pardon me?
After some futile whimpering, I picked the folder with the most pages in it, Story X, as the fastest to finish, and keyed the words into my computer. Once done, I got a copy of Writer's Marketplace from the library and found the name of a publisher interested in new fiction, Baen Books. Having titled the story A Thousand Words for Stranger, I sent it off and went back to writing what I was paid to write.
Conventions and people, oh my!
Meanwhile, another editor I worked with, Jonathan, introduced me to science fiction conventions. My first was Ad Astra, in Toronto, and there were not only authors willing to talk to me—but an editor from that same publisher. Josepha Sherman. We became friends. I made others, among them S.M Stirling, who invited me to join his critique group, the Bunch of Seven. It was astonishing. I met Ruth Stuart. Anne Bishop, also in the midst of submitting her first book. Many more. I'd found an entire world I'd never imagined, one I could join by walking in a door, full of people who loved what I did.*
Ten years—and three other publishers and many cons and so many new friends—later, Sheila Gilbert of DAW Books bought that first book. I'd learned in those years how much I'd done the hard/slow way, but the ending's what counts. I switched to writing fiction full time in 1997 and have been with Sheila and DAW ever since. Twenty-three novels, six anthologies, short stories, and innumerable joyful gatherings. We're family.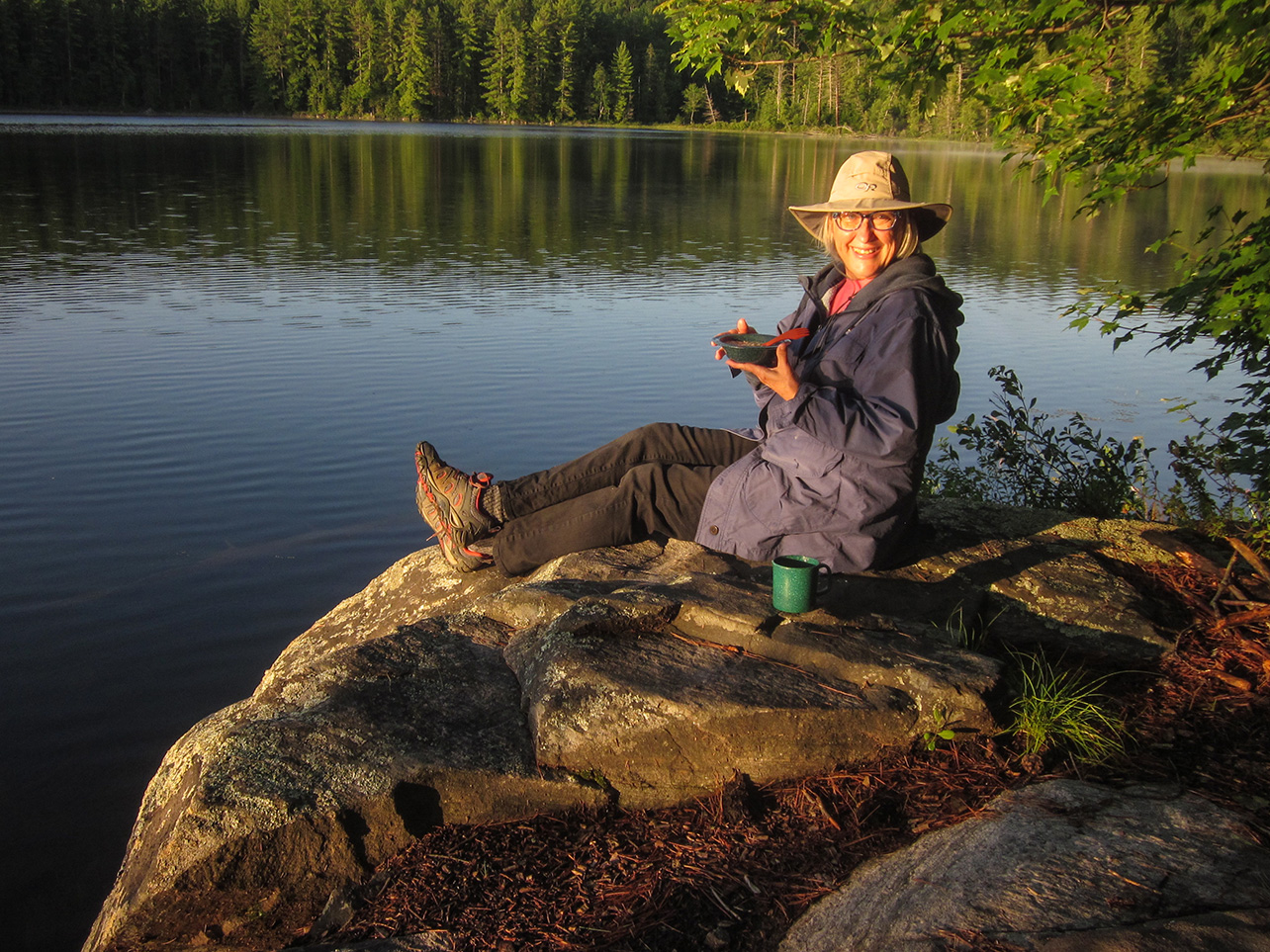 Me, now…
I love what I do. I encourage others to do what they love. I relish mornings and Mondays and learning anything new. I'm as optimistic and cheerful as I sound, since I firmly believe otherwise you get nothing done and can't be happy. To quote a family member: 'Julie's the least scary person you'll ever meet,' which isn't a bad thing to be, is it?
More? Goodness. I'm an ice hockey fan. Go Leafs! Like that 3 year old, I still tuck fungi, shells, feathers and so forth in my coat pockets, although I leave frogs in their ponds. I'm still married to my best friend and love of my life and we've offspring who understand about the pockets. I carry more stories and questions and interests in my head than should fit and can't fathom boredom. I can't wait until I grab my paddle and head for the wild with Roger this summer.
Where, might I add, there will be fungi, shells, feathers, and so forth. For my pockets. – Julie
---
*Note: Roger and I had our wedding reception in the Royal York Hotel, Toronto, at the same time as it hosted Canada's first Star Trek convention, and we didn't find out until years later. Arguably, we were smitten and not paying attention, but someone might have told us. We were huge fans already!
Author Photos by Roger Czerneda Photography
If you need a higher resolution, please contact me.